[nospaces]
[attr="class","infotemp"]
[attr="class","infotempt"]
[attr="class","infotitle-app"]

Notorious B.I.G.


[attr="class","infomain"]
[attr="class","infosubtitle"] Basics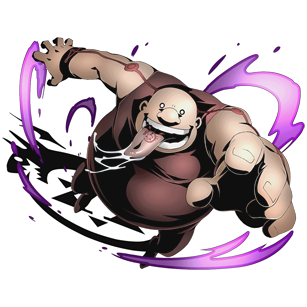 NAME
Big[break]
[break]
AGE
[break] Sixties
[break]
PRONOUNS
[break] He/him
[break]
SEXUAL ORIENTATION
[break] Pansexual
[break]
RACE
[break] Human
[break]
GUILD
[break] Odin's Spear
[break][break]
[attr="class","infosubtitle"] OOC
OOC NAME
[break]Tsukai
[break]
FACE CLAIM CHARACTER
[break] Gluttony
[break]
FACE CLAIM SERIES
[break] Fullmetal Alchemist
[break][break]
[attr="class","infosubtitle"] Freeform
[break]
The leader of a crime syndicate within a hidden, underground lab. One fateful night, two members of Odin's Spear infiltrated it. Laying waste to the whole of the personal and cornering him, he ingested the enhancive, albeit experimental and hazardous product they were engineering. As a result, his memories became little more than shattered glass against a cold, steel floor and his mind, no better. One was either compatible with the concoction, receiving the magic instilled within the vials or one was not, causing the consumer to experience their flesh and insides boiling away until they were nothing more than a puddle of organic byproduct. Big was fairly compatible, but not completely. His form was transfigured into something mutant, alien, monstrous and the abilities he gained were entirely based off of the mutative phenomena that occurred as a side effect. The shift in appearance was far better than the alternative for those completely incompatible.